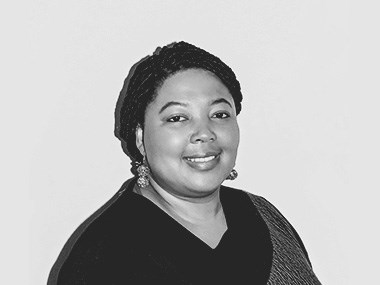 Johannesburg, South Africa
Founding member and Vice Chairperson of the Sexual and Reproductive Justice Coalition of South Africa (SRJCZA)
Tlaleng Mofokeng is a Medical Doctor, a founding member and Vice Chairperson of the Sexual and Reproductive Justice Coalition of South Africa (SRJCZA). She is also a member of Global Doctors for Choice.
Tlaleng was a winner of the Bill and Melinda Gates Foundation's 120under40 New Generation of Family Planning Leaders, and a nominee for the South African Medical Association (SAMA) Junior Doctor's Award in 2016. She was also voted the Most Influential Young South African for 2017 in Science and Technology. 
Tlaleng has a strong media presence as a health content producer, facilitator and educator in South Africa via multiple media channels. She regularly appears as an expert on the sexual health show on Kaya FM, and also produces regular video blogs about sexual rights and reproductive health. Tlaleng has also presented on Al Jazeera's global health series "The Cure" which included a focus on midwifery issues in Liberia and HIV treatment in Zimbabwe. She writes a weekly column in The South African Sunday Times newspaper, which has a readership of 2.1 million. Tlaleng was a delegate with the International Sexual & Reproductive Rights Caucus (ISRRC) at the recent United Nations 50th Commission on Population Development in New York City, USA.